Hi everybody, in this post we're going to look at Litecoin (LTC) against Bitcoin (BTC) because we are seeing an very interesting and promising setup forming. Let's have a look at the following chart.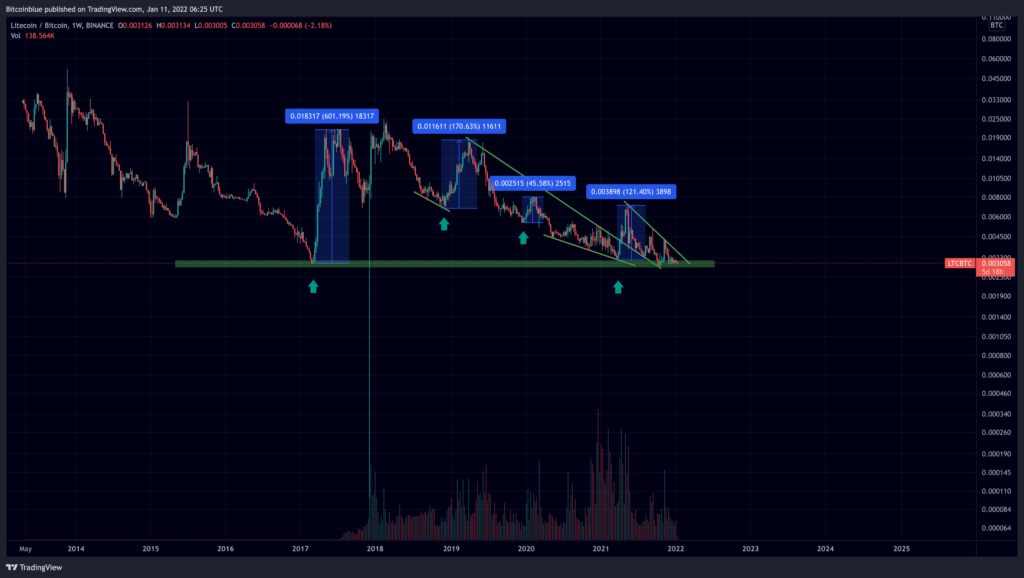 Litecoin is trading at the levels which we've been trading in 2017 right before a massive rally against Bitcoin. Remarkable here is if you look at the period Litecoin is rallying against Bitcoin you can see that it often occurs in the Q1 (Green arrows are all Q1 rallies). So we have Litecoin, being very oversold against Bitcoin and trading in Q1. This offers a nice risk/reward ratio on Litecoin.
Well, how are we going to trade this ? There are 2 ways to trade this chart in my opinion right now. We can either accumulate early on (which would be my favourite) or trade the breakout.
Accumulation levels (Green zone) : 2866 – 3100 Sats
Breakout level : 3500 Sats (Depending when we're seeing the breakout)
Targets :
1st Target : 3500 Sats (Very conservative)
2nd Target : 4790 Sats
3rd Target : 6772 Sats

These targets are conservative targets if we have a look at previous rallies from LTC against BTC. However still important levels to watch if we're not seeing the momentum pushing LTC to something similar like in 2017 or previous rallies.
Invalidation : A clear breakdown of 2900 Sats with a re-test as resistance.