The wait is for Bitcoin to make a move in the coming period. And I think we should be careful with alt-coins as normally Bitcoin is the one making the first move. The probabilities for Bitcoin to move higher and surpass it's all time high is higher than that we are going to see a severe correction (and thus bearish on alt-coins). But whenever Bitcoin rallies we are seeing alt-coins lagging behind. It is only when Bitcoin finished it's rally, that liquidity is flowing to alt-coins, that is why we should have a careful approach to alt-coins right now as we're waiting for Bitcoin. But let's have a look at XRP.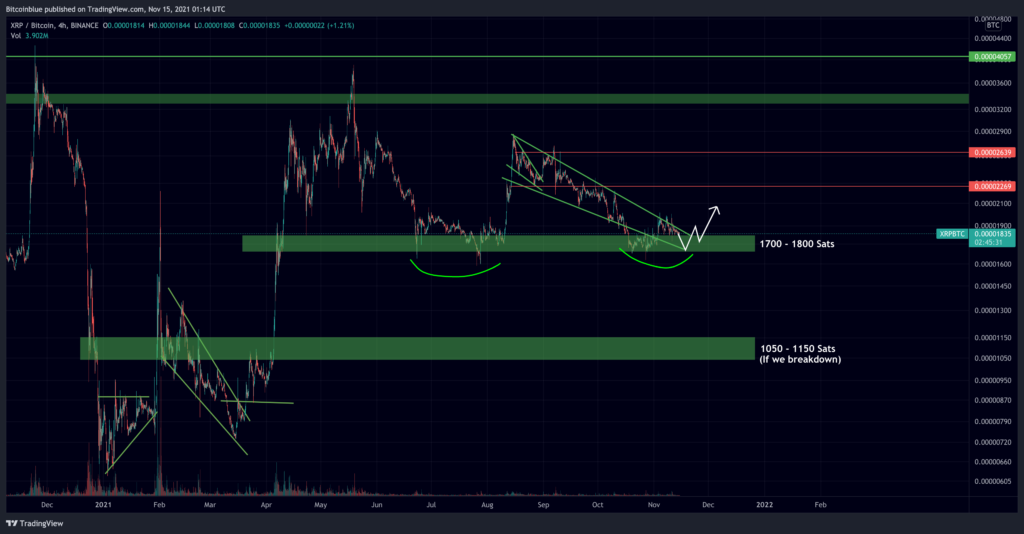 XRP is potentially forming a double bottom combined with a falling wedge. How should we approach this chart ? We could accumulate XRP at the support zone of 1700-1800 Sats, with an invalidation of a breakdown. Which means we exit our position if XRP broke down from that support zone. A safer way to trade is to wait for a decisive breakout of the declining resistance (right now at around 1880 Sats) with a re-test. If XRP breaks the support zone we could see lower levels of accumulation and the next target to accumulate XRP is at 1050 – 1150 Sats.
Overall during this bull-market I do expect some bullish moves in XRP, it's just a matter of timing when to enter the position against Bitcoin.
Entry (Depending on price structure)
Accumulation 1 : 1700 – 1800 Sats
Accumulation 2 (if breakdown) : 1050 1150 Sats
Breakout : Break of declining resistance with re-test.