Bitcoin has seen a major shake-out and corrected over 50% from its all time high at +-65000 USD. Lots of traders and investors where capitulating and the term "bear" market if often heard. A lot of people in the space especially newcomers think this was the bull market and Bitcoin topped out. I personally don't think that is the case and I do think Bitcoin is actually looking quite good, let's start on the weekly timeframe.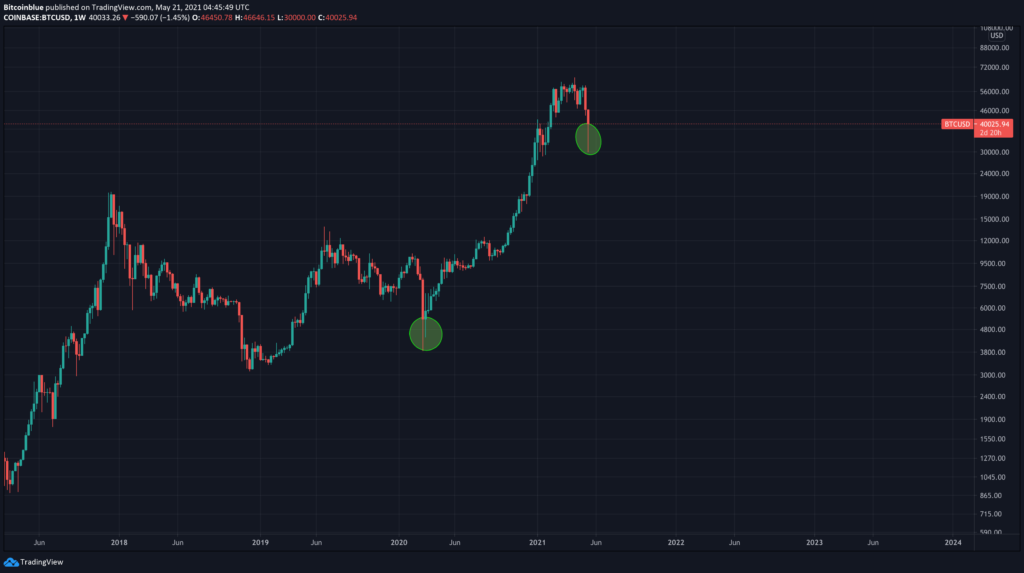 On the weekly time frame we can see a huge wick (so far). Depending on the weekly close this week this could be a very bullish sign and normally is could be a bottoming signal. Last time we have seen such a huge buy wick was in March 2020 with the major crash.

When we have a look at the daily time frame of Bitcoin then you can see we a trading in the same range from earlier this year (Jan-Feb).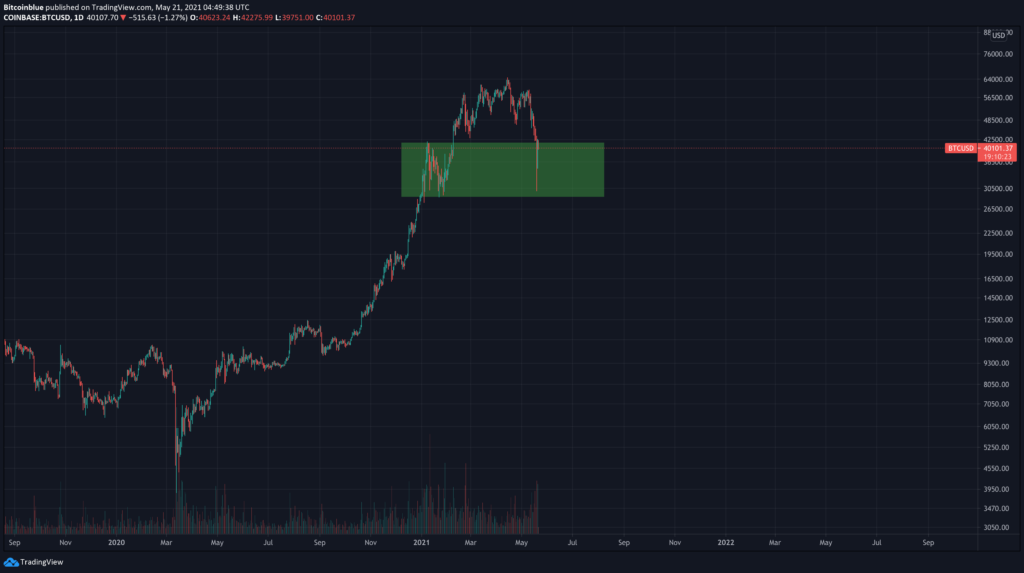 Another interesting signal that where seeing is Bitcoin closing below and back above the 200 daily MA.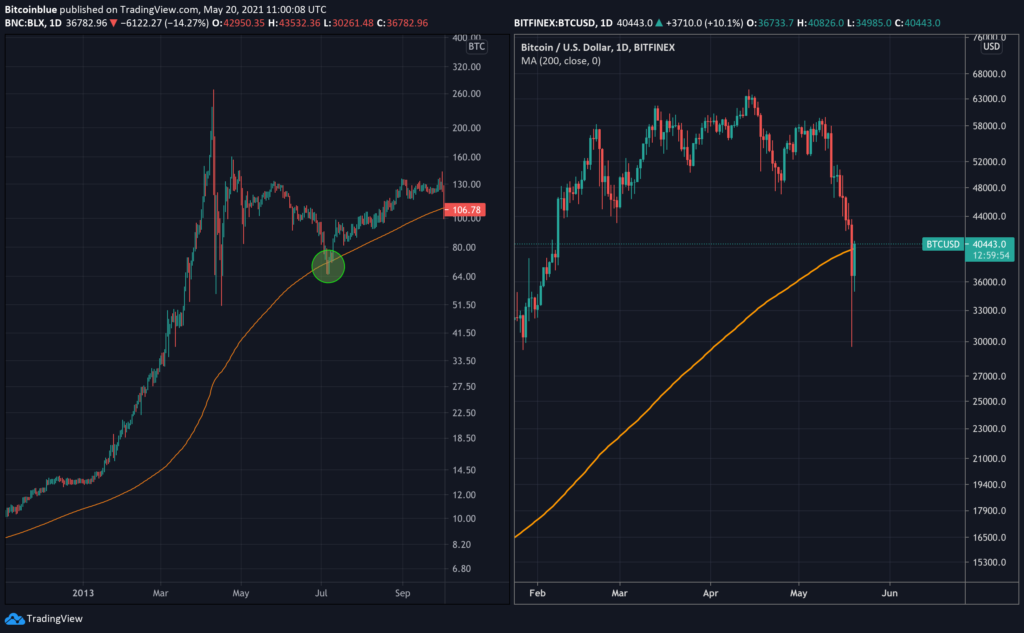 Last time we have seen that was in the bull cycle of 2013. This is another signal showing that this Bitcoin cycles shows a lot of resemblance with the double-top cycle back in 2013.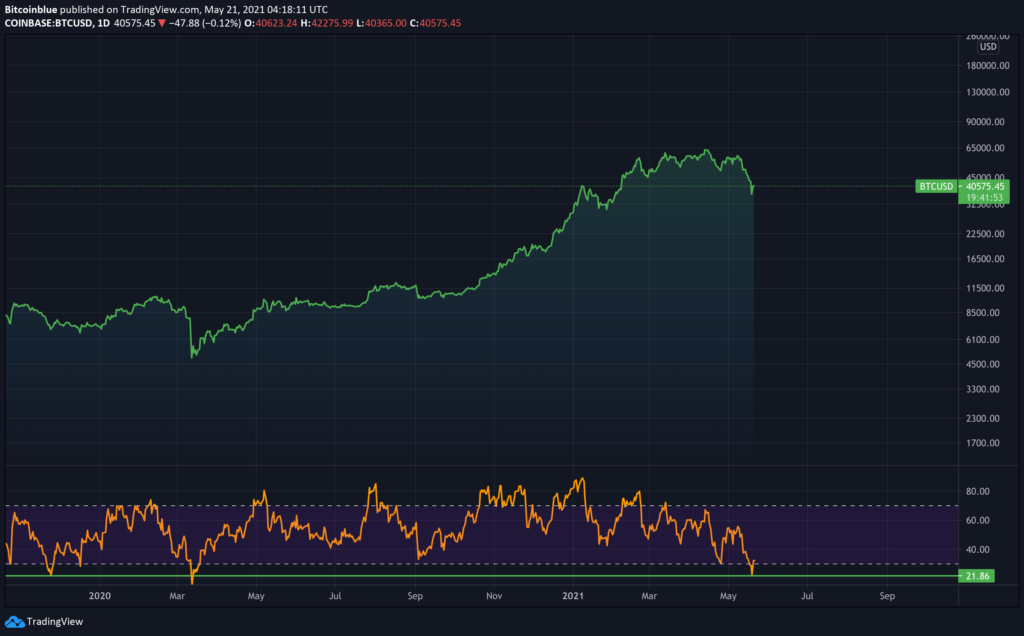 The Relative Strength Index (RSI) on the daily timeframe has bottomed at levels similar to the crash back in March 2020. This is as well a good sign for Bitcoin, showing that we are oversold and that coincides with the capitulation of the shake-out.
So the technicals in the macro-perspective are still looking good. Let's have a look at the fundamentals.
Bitcoin has been following the Stock to Flow model very accurate this cycle so far. The stock to flow model is showing the fair valuation of Bitcoin based on its scarcity. Right now Bitcoins fair value is at +- 80.000 which means that concerning this metric based on scarcity Bitcoin is still undervalued.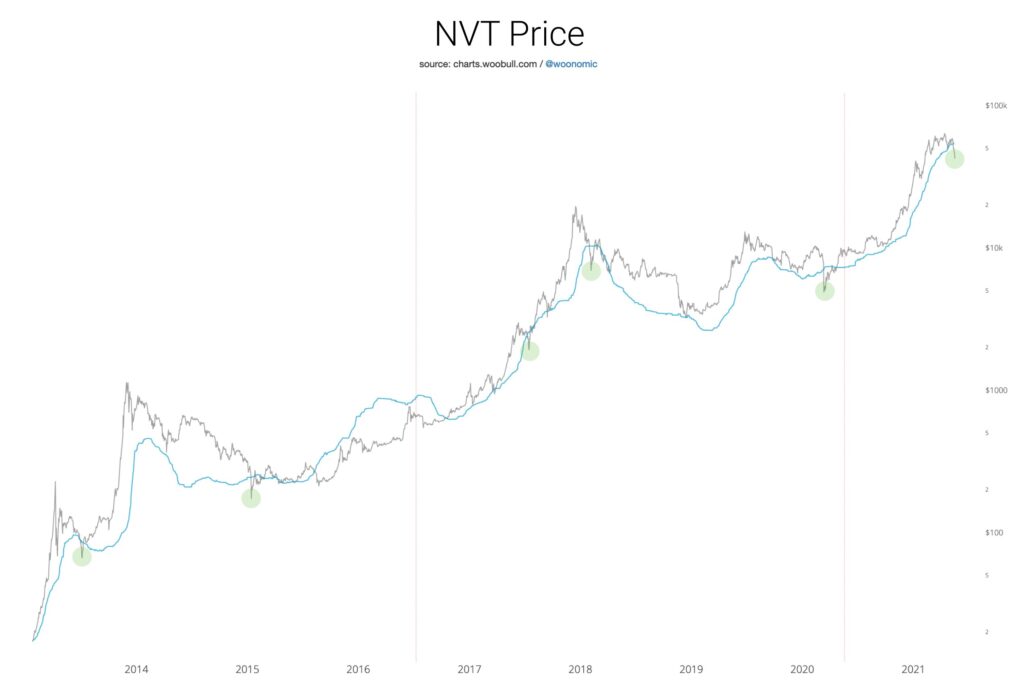 Another fundamental price valuation is the NVT price which is estimates an organic valuation supported by long term investors. This price has been accurate in the past in showing great buying opportunities once the price of Bitcoin moves below the NVT price. This fundamental metric is showing as well that Bitcoin is at the moment undervalued.
I don't think Bitcoin has topped out in this cycle yet, we are still seeing too much signs that Bitcoin is still undervalued in the macro-perspective. The big question is right now wether we are going to get a V-shape recovery or re-accumulation phase before starting the next uptrend. There is always a possibility for Bitcoin to head lower, but I do consider that as of now as the less likely scenario.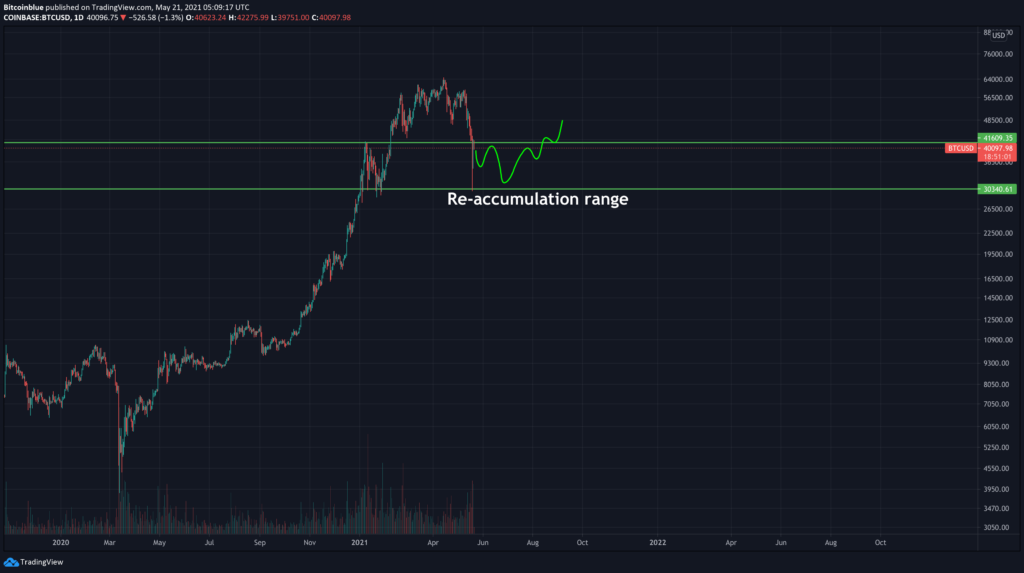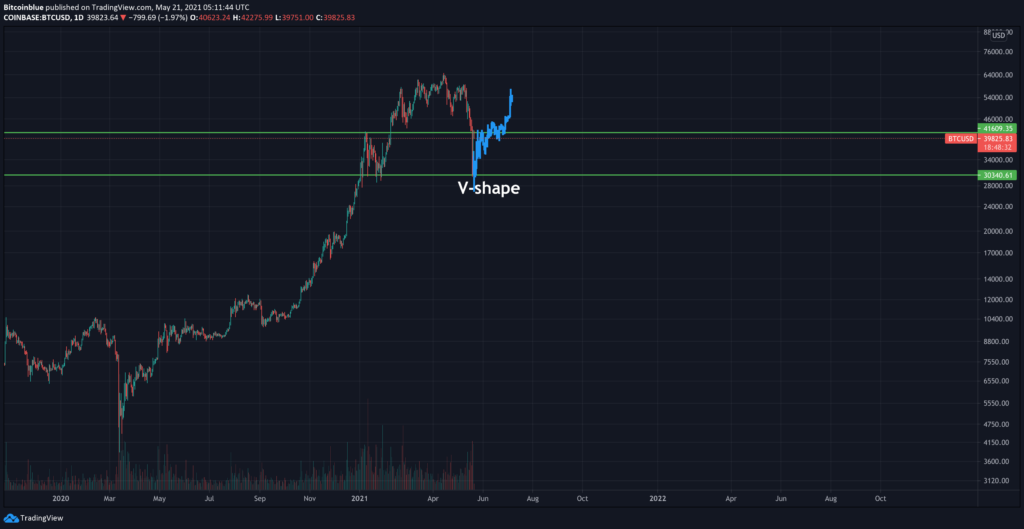 Either way in both scenario's I do think over time Bitcoin will recover from this crash. It's a matter of time wether we can do it relatively quickly or it could take some time. I do think in general it will take some time to really get the trust back in crypto by the majority of the crowd and start the next confident rally. The fundamental bottom is quite strong as we have been seeing the trend of Bitcoin being bought up and leaving exchanges. The transfer from weak to strong hands will help the next rally to be more explosive.
The resistance levels right now above us are quite clear.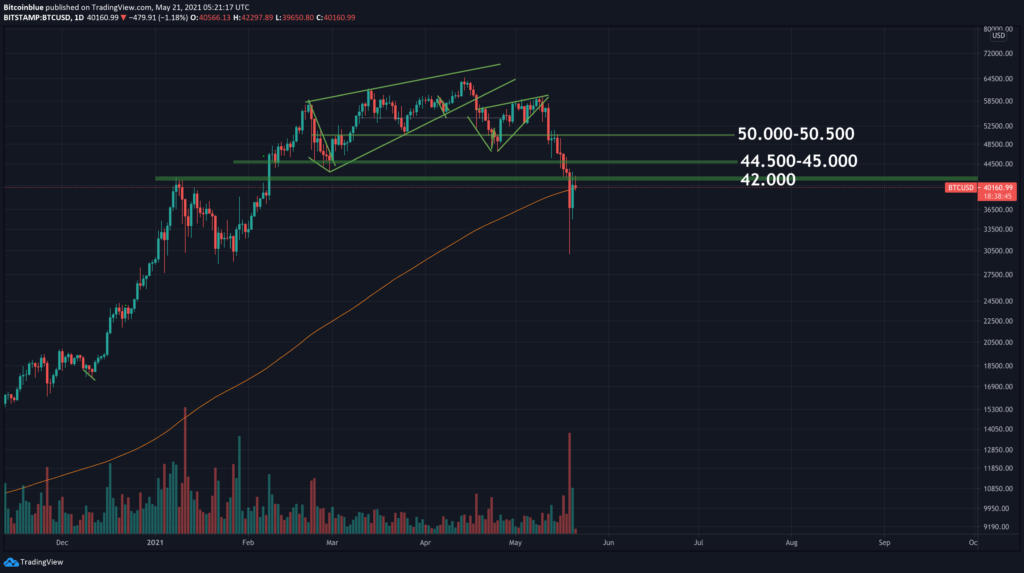 The first major level is the 42.000 level. This aligns with the previous high and for Bitcoin to get a more bullish structure we would need to re-claim this level and hold it as support. Afterwards we have a resistance zone at 44.5k – 45k. and ultimately we want to re-claim the 50k level. These are the first upside levels that I'm watching. The first support right now is at the 200DMA which is at +-40k. After this level we have support at 36.7k and 35k.
What about alt-coins ?
This drop in the price of Bitcoin made a lot of alt-coins bleed in the BTC comparative as well. Most likely you have some buy orders filled if not, you might want to consider re-position into alt-coins (check alts/btc) because we are presented with a buying opportunity. I do believe when Bitcoin is showing a clear bottom + reversal signs that alts are going to follow their uptrend in the BTC comparative. the targets and trade ideas already published are still in play. Any specific questions about this can always be asked on our discord.
A quick summary, Bitcoin is in my opinion still looking good in this cycle. We are still following the plan to a 100k (if not higher) BTC this year (or beginning next year) and I expect alts to continue outperform Bitcoin in the coming periods after Bitcoin cooled down and is showing a clear reversal. The big question is just how long it is going to take to recover from this major drop in the price.