Bitcoin right now is still following our basic plan. The price is consolidating and most likely from these levels we are in for a bounce. This will also have an effect on alt-coins and I want to talk about a couple potential scenario's that might be forming right now and how you can adjust your strategy.
There is a lot of uncertainty in the markets right now, is Bitcoin in a bear market ? Are we still in a bull market ? What about alt-coins ? Let's have a look at that. If you define a bear and bull markets based on a key moving average like the 20WMA then yes, we are in a bear market. If you consider other factors (e.g. Elliot wave theory, sentiment) then we are seeing signals that we might be bottoming now and can start the next uptrend. Which one is true ?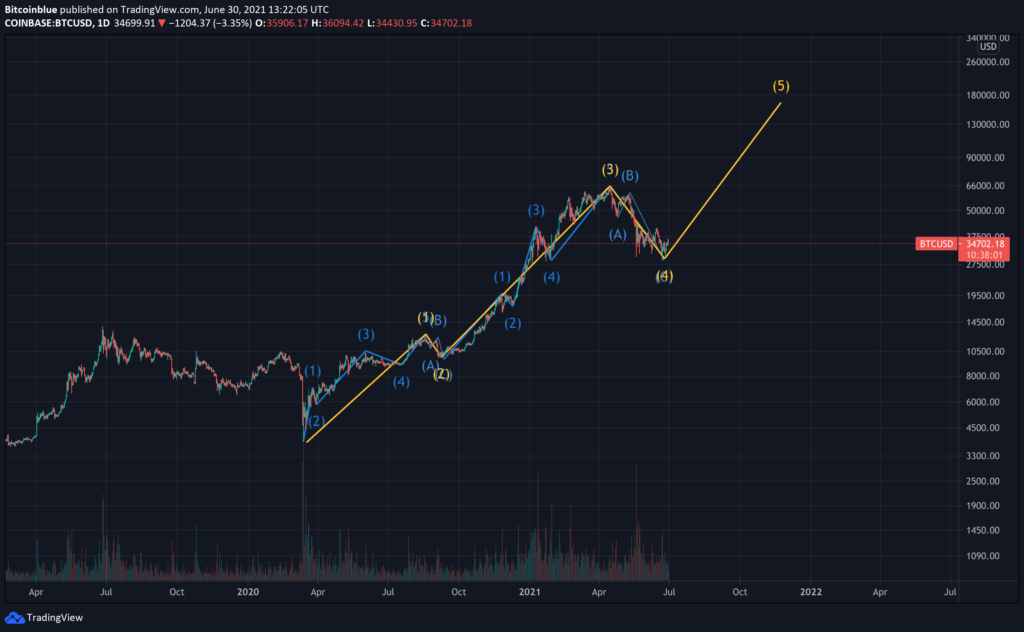 Let's first have a look at the bullish scenario, which right now shows that we might be finishing the 4th wave correction which will be followed by a 5th wave to the upside. Let me be clear here that it's not clear yet if we finished a wave 4 correction (so that we bottomed) but we are seeing the first signals which are very important (Capitulation, negative sentiment, potential bullish divergence). This scenario would suggest that we can bounce soon and that that will result in the next uptrend which will bring the price of Bitcoin over 100k USD by the end of this year / beginning next year.
The bearish scenario would be that Bitcoin is going to see a weak bounce at these levels and get rejected at a key moving average (200DMA or 20WMA). That would mean that the bounce in the price of Bitcoin is just a retracement from its drop and that we can even see lower levels than the bottom we have seen so far (slightly below 30k). This is the less likelier scenario right now, nevertheless we need to be prepared for it.
As you can see in both scenario's we most likely will see a bounce from here and alt-coins will bounce too. If we have a look at some high-cap alt-coin charts like LINK/BTC then we can see that in the macro-perspective it is still in a uptrend against Bitcoin showing that there is still strength in alt-coins. Confirming the bullish scenario.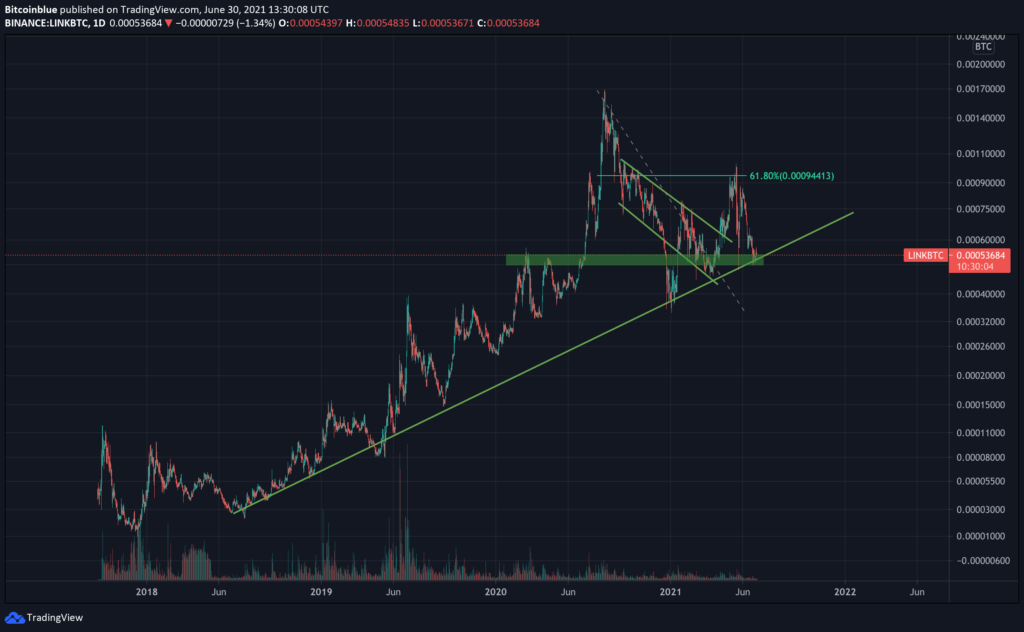 ETH/BTC is as well still above support and just left our buying area. Which is similar as LINK/BTC stil showing that it wants to remain in this uptrend against Bitcoin, this is a bullish sign. Showing that there is still enough confidence in the markets to speculate in alt-coins.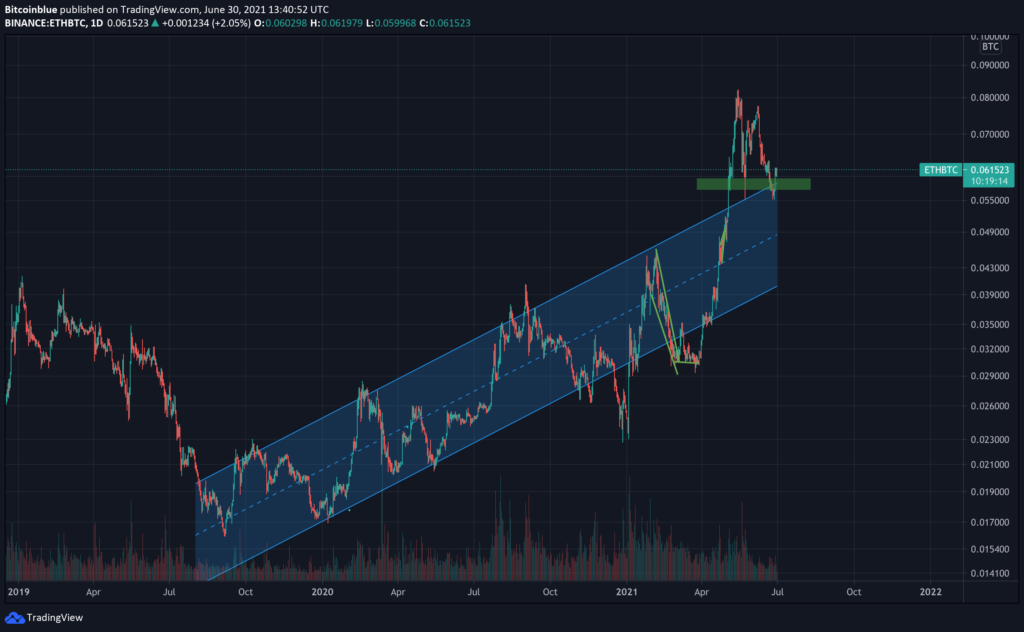 Bitcoin and alt-coins will likely bounce from here. Alt-coins will most likely see a bounce against Bitcoin however that could quickly end if Bitcoin where to roll over or getting rejected from a level like the 20WMA, so let me present some basic validations and invalidations.

Bitcoin getting rejected from key moving averages :
– 200 DMA
– 20 WMA
A rejection is when the price is not able to break above and we are due to a rejection breaking an important support level.

This is a bearish scenario for either Bitcoin and Alt-coins

Bitcoin breaking above the 20WMA would show strength for either Bitcoin and alt-coins. However do take in mind that a re-test of the 20WMA as support is crucial to remain bullish, if we lose this level after breaking above and it fails to hold support you want to hedge in stable-coins. That would be bearish for Bitcoin and Alt-coins.

A decisive break above 20WMA and re-test would confirm our bullish Elliot wave count scenario.
An invalidation of these scenario's is a break below 30k. Where the 50WMA should function as support.